The Mount Holly All-Girl Herding Team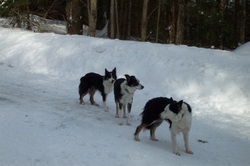 I couldn't help but post this picture, since it is the ONLY picture I have of all three of them together!! In the front we have Beth, a working bitch I imported from Wales during the terrible F&M outbreak of 01; then there is Jessie, my California girl. Right behind Jess is Bounce, Beth's daughter.
---
My Jessie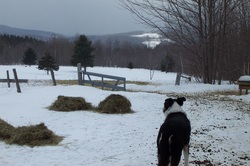 A less than flattering picture, but it shows Jess doing what she did best - controlling sheep. This is a picture of her in the winter of '04, at the Vermont farm where I kept my little flock of 27 North Country Cheviot sheep. Both the sheep and Jessie are gone now, but this shot reminds me of a much happier time in my life, full of the simple joy of dog working sheep.
Jessie was affectionately known as Jessie the Cur, a play on Jessica, but there was nothing cur-like about her. She had a solid working pedigree, fantastic training and the manners of a true lady. Jessie was one classy dog. Although her other nickname was "Fun Police" (she was a Working Dog and took her vocation very seriously), she had the warmest deep brown eyes, was full of love and affection for me. Bill used to say that she could see into my soul, and I believe she could. We were a team, and I miss her every single day.
---
Jessie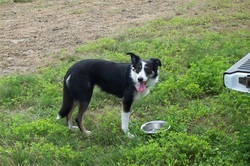 Here she is, having a drink after a gather at the landfill in Keene, NH, where we used to work with Bill's Sheepscapes flock. You can see by the line of grass to not-grass where the sheep had grazed and been moved to greener pastures. That isn't just an expression you know!
It was about 90 degrees that day, and we had sheep to move, and Jessie never quit on me. She was so reliable and so hardworking, is it any wonder I miss her so much.
---
Hope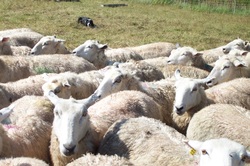 Although it isn't the best picture of Hope, it does show him at his best - a working dog doing his job. This was taken a few years back when we (the dogs & I) were working for Bill Fosher & his company Sheepscapes. Bill was contracted to use his sheep (lots of sheep) to graze in areas where herbicides and mowing weren't feasible or desired. Hope truly excelled at this work - covering a lot of ground, controlling a lot of sheep. He was the most capable and powerful dog I've ever known.
...which is how I knew something was wrong. When Hope started looking confused at basic commands and reverting to untrained behavior, that was when his illness first began to manifest. I am still not 100% sure of what took him from me. He started having seizures at the age of 10, and three weeks before his 11th birthday he was engulfed by a cluster of seizures. There was nothing the vet could do, so I had to let him go. It was the first heartbreaking loss of one of my working team of dogs.
Hope was one of a kind.
---
Hope, again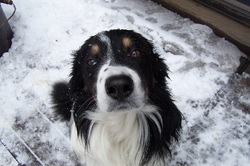 Because you've asked for a better picture of Hope, here is one of my favorites. You can just tell his right eye is partially blue; perfectly natural, but it freaked out the sheep which made him even more effective, I think.
---
Beth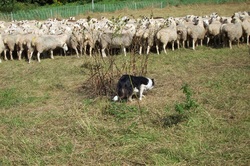 Here is Beth, my little Welsh bitch. She is working the Sheepscapes flock on some Army Corps of Engineers land in New Hampshire. Notice how she craftily sneaks up behind some brush to keep from startling the sheep. They can definitely feel her presence, but good dog that she is, she knows it is a bad idea to stress out the livestock.
Beth came to me via Aled Owen, world class sheepdog guy. We had contracted for him to bring Beth along to the States when he came, and by lucky chance she came into season before they left Wales, so he bred her to his International Supreme Champion (also World Champion) Bob. So Beth had a litter of pups here in Mt Holly. I've never bred her again, since puppies are a lot of work for her and for me. I kept one of the pups, a little bitch I named ...
---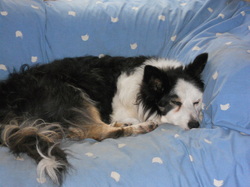 at the ripe old age of 16, on March 6, 2015, my pretty little Beth decided she'd had enough. She went very quickly, on her own terms.. just lay down & didn't get back up.

we miss having her around, our third in the truck & on walks. I vacuum more now that the resident floor sweeper/crumb eater isn't here to follow me around. Miss her, wish she could have enjoyed just one more roll in the grass... it was one of her favorite things. That'll do, Beth...





---
Bounce
I know, Bounce is not exactly a Proper sheepdog name, in the strictest sense, but it suits this little dog to a Tee. She was the last of the litter, as Beth was walking across the floor for a potty break out popped a pup.. it bounced. And hasn't stopped since. That was 13 years ago!
She did do some work for Sheepscapes too, this is a shot of her in the shade after a gather. Because she was so young during our SS days, I couldn't photograph her working.. if you've ever had a young collie on sheep, you know what I mean!
She has a marvelous pedigree and a terrific attitude. She is more mine than any other I've had. We've only been apart for 2 months of her life, when she went off to Collie College. Bounce gives me such joy every day. I am blessed to share time on this planet with her. She is a very close second to Jessie in my heart.

---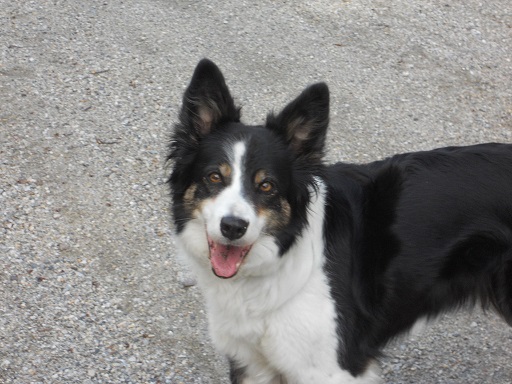 Taz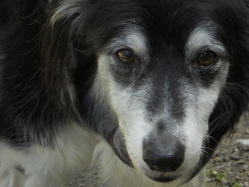 The Rescue Dog, my first and most challenging Border collie. I got Taz in Virginia from a rescue, was assured that with some TLC he would make a fine working dog. I quickly learned .. uh, no, he won't. But he did have a good life with us, hanging out at dog trials, traveling all over the country, eating his way through at least 4 dog beds. He was my problem child.
I came home from work one night to find him, still warm, in front of the woodstove, almost as if he were just sleeping. He was 14. Good boy Tazzer.
---
Bugs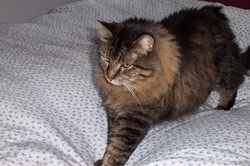 Bugs, my constant companion for nearly twenty years. He was half Maine Coon, half "ruffian" or so I was told. One would never have known Bugs had ruffian in him - he was the sweetest most affectionate and sensitive cat ever. He has left VERY big pawprints on my heart.
I could never ever have made it through my painful divorce without Bugs' reassuring and comforting presence. He apparently never got the memo about cats being aloof; he was always there for me. Miss him terribly.
---
Holly & Rico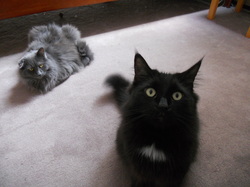 Here are Bugs' successors - two shelter cats I brought home in February '11. Holly is the grey cat with the folded ear, and Rico is the nosy black cat. She is 7, he is almost 2.
I went to the shelter to visit them, once a week for a month, because after Bugs died I found I could no longer sleep in my bed if there was no cat in it, but I felt immensely disloyal to Bugs, bringing home another cat.
However I instantly fell in love with Holly, who was terribly affectionate and has a great purr.. and Rico (not his shelter name) would not be refused, he is a lovebug. I wasn't planning on two cats, but Rico won my heart.
Once home Holly reverted back to her true cat-self and was most definitely aloof. But she would follow me from room to room. Tragically, Holly scooted out the door in the wee hours of 8/13/12 & was never seen again. I miss her terribly, every day. Our time together was far too short.
Rico has gotten more affectionate by the day, always found sleeping somewhere on the bed with me when I wake each morning. He has a great time hunting in the basement every night and occasionally leaves me partial mouse corpses. I'm thankful he doesn't leave them IN my slippers, like Bugs used to do.
---
Obie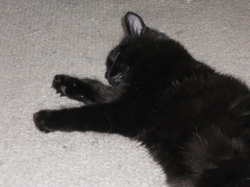 And here we have the newest member of the family.. four month old Obie, who has discovered the hedonistic joy of crashing in front of the wood stove. He looks a lot like Rico but doesn't have any little patch of white, and where Rico will "talk" to me, Obie is content to let his purr do the talking.
the name Obie is short for Obnoxious.. he seems to have a brain the size of a sesame seed.. or a truly awful sense of humor. I'm hoping as he grows into a Cat, the dumb kitten will be left behind.
---
The Sheep.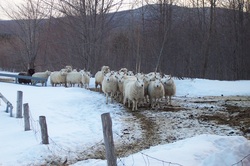 Here is probably my favorite picture of my wee flock, back in the day. I cannot tell a lie, I had sheep to use as training tools for my Border collies, almost exclusively. If you look VERY carefully, you can see mixed in with the North Country Cheviots a small handful of Cotswold sheep. A few of those were kept for me to spin their wool into yarn, but for the most part, these girls were all about challenging the dogs, and they were very good at it.
When economics forced me to part with the majority of this flock, I am happy to say that they went to work for Bill of Sheepscapes fame and made their living as eating machines.
---