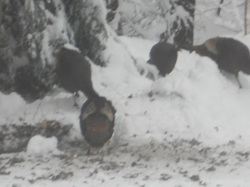 this would be the Ugly... an entire army of wild turkeys has decided to camp out in my yard... "hey, this whacky woman puts out FOOD!!" Of course I've been putting out seeds for the blue jays, red squirrels and juncos, but eh, details, details.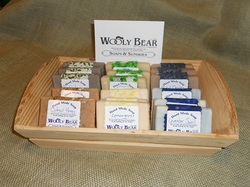 this would be the Good... a new display of some of our favorites, going to Gloria's Pantry in Cuttingsville, VT. If you should stop by for a visit, make sure you try some of Gloria's incredible lemon bars. They're sooo good! But don't forget to stock up on soap!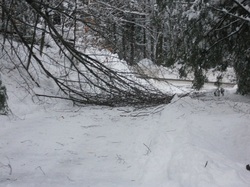 and here is the Bad. A wicked spell of weather up here has wreaked havoc with our poor local trees...this one was entirely unable to resist the ice & snow. It crashed down right across the driveway, trapping me in for the time being. I can hear another one rubbing on the kennel.

as soon as I work up my courage, we will head outside to further assess damage. Ugh!