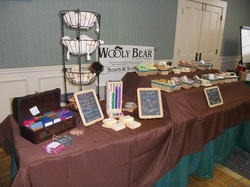 Hibernation time here at Wooly Bear headquarters.. the display stuff has been freshly cleaned, folded or boxed up and will rest a while. We had a very nice show season, full of old & new friends, lots of gabbing, plenty of barter and a TON of creative ideas for the year ahead.

I trust you all had a pleasant holiday, looking forward to perhaps indulging a bit much on the 31st?

I hope that the year ahead holds much happiness, for all of us, however you define it. Be loved, be happy & healthy, this will be YOUR year!!