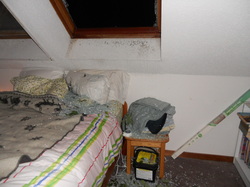 so last night, as I attempted to climb into bed, I noticed something odd on my pillow.. so I got my flashlight... and Holy Crap. The branch that landed in my garden today must have bounced off the skylight first and shattered it. No climbing into bed for me.

There is glass everywhere, the linens, pillows, mattress, carpet, everything, soaked thru.

I shuffled off to put on some shoes, then I gathered up some plastic sheeting (gotten years ago for a long forgotten painting project) and my handy dandy Swingline stapler... I'm so glad no one could see me fighting w/ the plastic as I tried w/ marginal success to put it up over the gaping hole in my roof.

Call to the insurance company this morning was singularly Unhelpful, as I am told it is my personal responsibility to see that No More Damage Is Done.. aka hire some to throw a tarp over that hole NOW. "ask relatives to help you" Are you HIGH? I'm the youngest in my family, my closest relative lives 2 hours away, and she's 85!! No folks, I am clearly NOT in Good Hands.

I'm hoping that by tonight an adjuster will have come & at least taken a look. I was really hoping to have it fixed today, but that doesn't seem likely. Dammit.

Now seems like a great time to make brownies. Yeah, brownies... that's the ticket!! Oy!