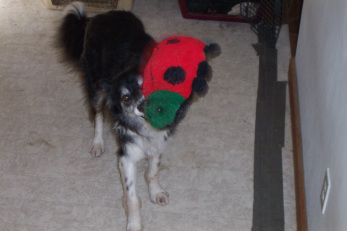 here is my little Taz, my rescue border collie. He was never much good at anything - his recall was awful, his socialization skills were horrendous, he was very sketchy about the whole "housebreaking" thing and he never EVER knew when to shut up, or stop digging, or eat.. skinniest dog I ever knew, I think he might have been anorexic... but he would always curl up ON my feet at night, he LOVED to go for rides and he loved Loved LOVED his ladybug toy. He didn't chew it, just carried it around.
I buried him with that toy, a year ago. and I miss him to bits. He was never an easy dog, but he made the sweetest "moofing" sounds as he settled down into his bed at night. I really miss that sound..
He traveled all over the country with us, and he was a good boy.