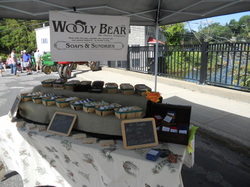 This past Saturday was Market Madness in Springfield, VT. It was a day long street fair, lots to see & do. And the weather was PERFECT!

Wooly Bear had a booth set up on Park Street, which sadly did not see much foot traffic, but it was a great day for being out & about. I had my signature Wooly Bars as my special for the day, and they sold pretty well. But most folks came out for the fried dough & onion rings.

Thanks so much to everyone who did stop by to say hello. Great fun was had by all!!