so... plow guy #1, broken down truck. Sez... call this guy.. so I call plow guy #2 who sez, be there in a couple of hours... never showed up. That was yesterday. This morning at 7AM I put a call in to plow guy #3... I even said "if you can't or don't want to, please just call me back so I can get someone else" No call, no show by 2PM.

Called plow guy #4..explained my dire straits.. I may have whined a bit... don't recall. But.. he sez, see you in an hour... and SHAZAM! He showed up! He plowed! And he charged me 3X what plow guy #1 does for the same driveway... ugh.

However, when I trudged up the drive to shovel out my mailbox... wait, what mailbox? He'd plowed about 12 to 14 feet of snow on top of it. It was smashed, the post broken and it was full of wretched snow. I just put that damned mailbox up this summer. Brand new, not even a year old.

Miami is looking mighty fine right about now.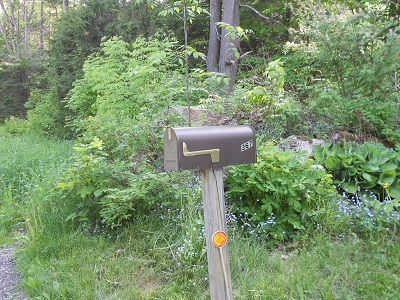 the mailbox, freshly erected.. in warmer days. RIP mailbox, RIP.....